General Information:

Name:
Keitaro Nakamura
Nickname/Alias:
Kei Mr nakamura
Age:
Looks 18 real age 100,000
Gender:
Male
Looks:
Human Form.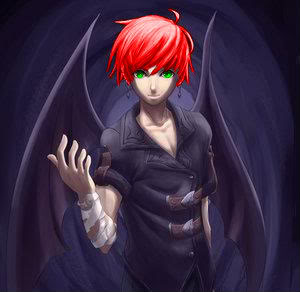 Demon form.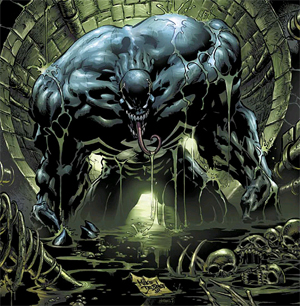 Height
6 ft 7 human form. When demon he is around 10 to 11 ft
Weight
180 lbs Demon form he is about 1 ton
Personality:
On the surface, Keitaro seems to be a shallow and self-absorbed man, infamous among many of his colleagues and subordinates alike for the selfish and narcissistic aura he gives off. Easily as arrogant as his young friend Keiji, Keitaro is wont to act in an ostentatious manner and appears to act mostly out of self-interest rather than any sort of philanthropy. He comes off to most as a sort of cocky layabout, shirking most of his duties and delegating his paperwork to subordinates while sitting idly at his desk with an amused smile on his face as he procrastinates, but quick to take action when it appears that there is glory and military notoriety to be gained. Keitaro is expertly manipulative and prone to think several steps ahead of those around him, giving him a remarkable talent for making subordinates act exactly as he wishes despite appearing not to have had a hand in their decisions.
Keitaro also has the reputation of being an incorrigible womanizer, and it's said he spends much of his time cavorting about town with various women and wooing several of the servicewomen with his abundant charm, good looks and charisma. This adds another facet to his unpopularity among the enlisted men, many of whom have had their sweethearts and crushes romanced away from them by his hand.
However, while these traits do have a place in his real personality, much of his outward persona can perhaps be considered an intentional façade perfectly designed to cause those unfamiliar with him to underestimate his remarkable intelligence and ability. Keitaro is an exceptional tactician, well-versed in various strains of combat theory and particularly talented in the realms of surreptitious information-gathering, covert operations and enemy ensnarement.
At the core, he is a remarkably devoted commander whose primary focus and personal duty is to his friends and subordinates. Though he hides it well behind a veil of cynicism and self-importance, Keitaro is a man who cares deeply about the people who trust and support him and goes to great lengths to ensure their safety and well-being, even at the risk of his own. As a man with considerable power, Keitaro considers himself a protector to those without and acts accordingly, earning the staunch loyalty of his most trusted compatriots. His words to his companions were "As an individual I am powerless. That's why I need all of you to help me protect this nation. I will protect you. In turn, you will protect as many others as possible. No matter how few, always look out for your subordinates. And those below you will in turn protect their subordinates. No matter what happens, stubbornly cling to your will to survive. Live and help change this country.
Unfortunately, his self-imposed position as protector has caused him to display a penchant toward stubbornness in regards to his pride on the field and a fiery temper, both of which have been shown to cloud his judgment in certain situations.
Personality Trait's:
Think of the sims: genius, natural cook, virtuoso, evil, good, lucky, etc. You may choose up to five.
1.Anti Hero
2.Calm
3.Nice
4.Lucky
5.Genius
Catch Phrase:
*Stares Up* "Hm...Well isint this odd?"
Family Background:
Keitaro's famliy has been a long line of demon teachers. Much like how he is.
History
Keitaro nakamura was born into a famliy of demons. And as such was taught dark arts. Such as to mix potions and use dark magic. Wanting more out of life he was sent to lawliet prep. He was at the top of his class mainly due to being alive 99,996 years prior and learning all of what they taught normal. Ninja's moves how ever messed him up as that was the era they were in at that point and he didn't know much about them. How ever the four years passed rather quickly and he was offerd a job by the head master to teach the dark arts class which he gladly took.
School Information:

Class:
Potion class Dark arts class.
Affiliation:
Neutral.
Talents
Demon arts. Fighting. Making potions.
Inventory
Potion vials. Potion mixes.
Special Information:

Special: Items, Abilities, Abnormalities, Characteristics
Special Item Ex:Potion vials. Potion mixes.
Special Ability Ex: Demon strength,speed and sight Dark magic
Special Abnormality Ex: Bat wings that can retract back into his back. Demon Form
Special Characteristic Ex: Emotion reader. Unreadable
Hobbies:
Read,Make potions,Train
Problems:
Hopeless with girls
Favorites

Color:
Black green and Red
Music:
Rap or rock
Song
Bad Girl Friend by T.O.A.D
Food:
Animals...Live animals. When not wanting to freak anyone out mainly anything meat.
Sport:
Boxing
Drink:
Blood or dr pepper.
Teacher





Posts

: 148


Join date

: 2010-03-17

Character sheet
Character Name: : Keitaro Nakamura
Class: Teacher
Activities:


Headmaster





Posts

: 165


Join date

: 2009-07-13


Age

: 27


Location

: Texas i think

Character sheet
Character Name: : L Lawliet
Class: Headmaster
Activities:



Similar topics
---
Permissions in this forum:
You
cannot
reply to topics in this forum